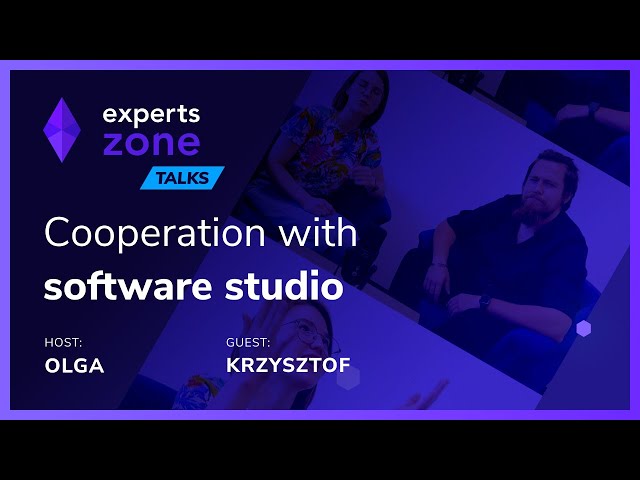 Meet Experts Zone Talks with CTO at Frontend House and Liki - Krzysztof Wyrzykowski! Today we will talk about how to cooperate with a software studio from a scratch.
If you have any questions to our experts - ask us during a free consultation on our website.
In the #8 episode about the cooperation with software studio you will find:
00:00 - Intro
00:40 - What does cooperation with software house look like?
04:41 - How to prepare for consultation at software studio?
05:28 - I have an idea: what is next?
06:17 - Discovery Workshop - what is that and how does it work?
10:23 - What is the dream project for a software studio??
09:01 - How to choose a software studio to cooperate with?
Experts Zone Talks is the podcast in which we will talk to experts from different fields of IT. Share your thoughts, we will be glad to hear your feedback! :)
Transcription
Olga

Hi, my name is Olga and this is Experts Zone Talks. Today, we will talk with Chris, CTO at Frontend House.


Chris

Hi guys.


Olga

And today we will talk about cooperation with a software studio. Step by step.


Chris

Can't wait.

The process of cooperation with software studio
Olga

So my first question is: how does cooperation with a software studio look like? Are there steps that are the same for everyone?


Chris

Probably not, and it's very hard to define how, generally speaking, cooperation with software studio works, because we have different projects as a studio, we have different stages of the project. For example, we can have a client that has barely nothing - like he has a basic idea. He knows what he wants to do, but he doesn't know how to achieve this. For him. It's like a totally different kind of cooperation than for someone who has a very mature and powerful project with, you know, some front and back end or even just a planning done.

So for those two, it's going to be a totally, totally different kind of cooperation. And we need to think about it. And for us, it's very important to know our client, his expectations and his goals and defined what we're going to do next.

Consultation call
Olga

And as I understand, you explore those client's situations on the first call, which is free consultation, right?


Chris

Yeah. So for the first call, it's good if you know what you want to do, actually, if you have any kind of documentation. It is always easier to understand if you send something upfront, like a presentation, documentation, at least something written. It is much, much easier for us to understand. And then we jump on a quick call to get to know each other, like to discover your course, your needs, and then we can schedule the next calls to plan everything. But the first one is very important for us because every project needs to have a powerful team, unique skills, and a system that is always different.

So on this very, very first call, we need to know what we want to achieve and build together. And we need to find the best team to make this happen. Even during the discovery, it's very crucial. A crucial part of the project is a Discovery Workshop or even a call with the software studio, where we ask proper questions, to be honest. So this is the first step of cooperation with a software house.


Olga

And how long is this first call? Usually?


Chris

To be honest, it's good to have it for as long as possible.


Olga

A couple of hours?


Chris

No, no, it's not that bad. If we decide to work together and we have a tech team, it's usually about one hour. One hour is enough for us to understand, ask proper questions. So we actually know your digital product and we know what we want to achieve together.


Olga

Mhm. I thought that the first call lasts circa ten minutes.


Chris

Ten minutes?


Olga

Yeah. Is it one hour, wait a moment.


Chris

About the free consultation: consultation is not a start of cooperation. It is just a consultation. So you ask for this one. It is good if you have a set of questions like - I want to create something like this, how to achieve this? Do I need front end developers, back end? What kind of skills and tools do we want to use? That kind of thing. What is my first step? What kind of methodology will be the best for my product? What to choose - cross-platform or native app?

That's the free consultation. But if you talk about a call, kickoff call with the client, it's never going to be like ten minutes. It's never going to be like thirty minutes. At least one hour is something we should aim for. And we should add at this point, it is not a waste of time. We need to understand each other really well to provide quality services. After this, we could have a Discovery Workshop, which would be like 2 or 3 days long, so...

How to prepare for the meeting with the software studio?
Olga

So we will have enough time to get to know each other. How can clients prepare for this call with the software studio?


Chris

The free consultation call?


Olga

Yeah.


Chris

It simply is that you need to know what you want to build and who will lead you to this goal. And that's it. If you send something upfront, if you have specific questions - that definitely helps.


Olga

So the most important is an idea and the rest we will just..


Chris

That's what we do actually. Yes. So we have a bunch of very good user experience designers. We have a big number of very good UI designers and we have very creative people on board with a lot of new and fresh ideas. So with that and your idea, and technical skills, we will make it happen under control.


Olga

What is the next step after that?


Chris

The next step after free consultation or like a kickoff call, for sure it is to sign up agreements for the development. So, yeah, I mean, there is always a lot of paperwork which we try to, like, handle and make it as harmless as possible because it's always a painful thing. And after we signed everything and we decided we could work together, there's finally time to kick off the development. I mean, like the process of the development, because we are not jumping straight to the code, right?

We need to define all user paths. We need to define all the features. We need to prepare a backlog and design. So this thing gives us an opportunity to jump to Discovery Workshop that the one I mentioned before, the 2 things we take for one day for small projects and two, three days for like very big ones. Before that, we sent you a spreadsheet with a lot of questions about the project so we can prepare upfront because for this one, we need to spend around 1 to 2 weeks - it's preparation on our site.

So we have to sit together and process all your answers into our mirror board or that kind of tool that will help us to lead and ask proper questions during the Discovery Workshop. And at the Discovery Workshop we always start with mini-games and that kind of thing to just refresh our mind and so on and get to know each other very well. And after that, we have some exercises for you and for our team that will help to answer the questions that we have and that will allow us to prepare documentation for you.

The next step, I mentioned the Discovery Workshop, but it is connected with the documentation of the project. And having this documentation, we can finally start. We can draw a user experience. We can draw a user interface and then we can jump to the development.


Olga

And now long the introduction to cooperation lasts. For example, starting from the first call to start of development, from the contact with the studio.

How much time does it take?
Chris

You know, we always aim to do this as soon as possible. Right? Because I know everyone has deadlines and we need to achieve something within the time we have. And so we try to squeeze the timeline as much as we can. We start as soon as possible and we deliver the complete product as fast as we can. But always having in mind that we need to give a powerful performance, a good code quality, and product quality. It has also to be perfectly designed. It's very hard to answer this question because some projects are quite small.

They are not that challenging, but still very important. But, you know, just technically speaking, not that very challenging. There are different options, but documentation for this might take like one week, but we have projects that are extremely big with multiple user flows, multiple pages, multiple functionalities that might take even a month or two months to make the documentation for those.


Olga

Just for documentation?


Chris

Yes. So it really depends on the project and it really depends on what you want to actually achieve.


Olga

Please, tell me how to choose the right software studio to cooperate with.

How to choose the studio to cooperate with?

Chris

Just choose us. No, I'm joking.


Olga

What a simple answer. :)


Chris

Obviously, we want to work with you guys, however. You know, it's like choosing everything else, so you need to have a full trust to those guys, you need to trust that they will really do the job. You can see how quick they are in the answers. You can see how well they are prepared for the calls. You will spend a lot of money on the development. Right? Is it not the chip thing. You really need to search, try some and pick the one that suits you the best. Because you will be spending a lot of time during the feedback, design, during the demo session, during the post project maintenance, support, and that kind of stuff. So you just need to find someone that suits you. I'm always on the other side, so I'm always like, you know, a technical person speaking with you.

So I'm not choosing a development studio, but I think that what we try to build here is just to be a perfect development studio for everyone.

What is the dream project for a software studio?
Olga

Have you ever had a situation when a client comes to you and you see that it is a dream project you want to work with.


Chris

Every project is a dream project, to be honest. You know, we love challenges. Yeah, basically we love challenges. Just technically speaking, we strive to challenges in order to develop our skills. We want to set new technical goals for other developers. We need to answer very tricky questions. We want to create tricky algorithms for this kind of stuff.

As for me, as a developer, that's the perfect project. However, as a CTO and as a company, every project is perfect as long as the client is happy. So, yeah, I don't have a very easy answer for this.


Olga

Thank you so much for the interview. It was interesting. Now when we have knowledge of how to cooperate with a software house step by step. The software, computer, and IT services world seems real open. And remember, you can always ask our developers a few questions.


Chris

Go ahead.


Olga

Yes. And thank you so much. You can watch new videos at a Frontend House YouTube channel or download audio on Spotify. Let's keep in contact and see you next time.


Chris

See you in the Frontend News, see you guys.

What do you think? Share your impressions!