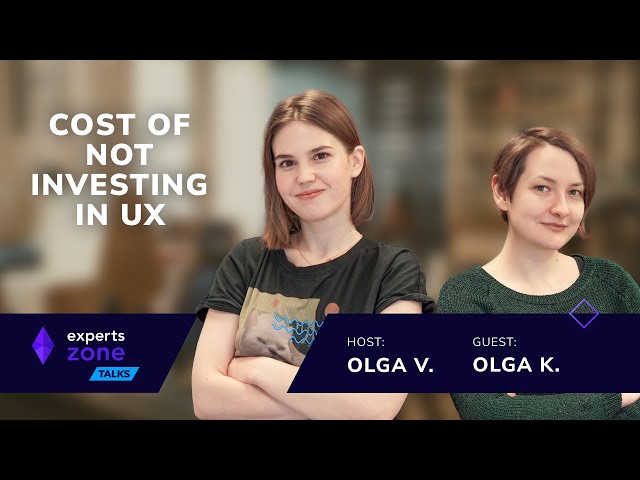 Today in Experts Zone Talks we talk about the importance of UX and what UX will do for your business.
Transcription
Olga V

Hi everybody. Welcome to the Frontend House YouTube Channel. Today we will speak with Olga who is a UI UX Designer. And this video is for you if you are on your way to creating your digital product and you're wondering how to organize the process of UX, what are advantages, what is the process and how the work looks like and how can UX improve your business. 

Let's move to the first question. How does UX improve your business and why should we care about it? 

The power of user experience
Olga K

Yes. Let's start with what UX design is. The UX Design cares about your product before you create it before you even think about what it will look like. It cares about everything before it. So, first of all, UX Design helps you craft your business strategy around your users' needs. It helps you to understand your users. And, thanks to UX Design, you can understand who is your user, what are his needs, what are his pain points, and what kind of value you can give to your customers. The UX designer can help you craft your business strategy around all of this. And that way you can consciously provide value to your customers, based on real data from wishes. This is the main value creator of the UX Design for your business. But this is not everything, because when you invest in UX Design, you also alleviate financial risks that are connected with software development. As we all know, software development is a very complex process that is not very cheap, as we also know. And Ewing's design is that part of that process that helps you to optimize it and also to avoid various kinds of risks. 

So it's best to invest in a product, in a digital product, knowing your customers know what kind of value we want to provide them and what kind of market environment issue the product is going to be launched. 


Olga V

So UX is the first thing we have to work on before launching the new product, right? 


Olga K

Yes, of course. If you have some idea and you come to us with that idea, the Unix design will help you validate it. So basically, we'll make sure that your business idea is good and it's going to give your customers the value that they are so if you have most businesses, start with some kind of theory and doing design is here to have to validate it. It's like research, like very deep research before starting the work on the product. But it's not only about the research because they are also simply researchers. But the difference between researchers and UEX designers is that UX designers actually make decisions based on the data from the research. So they can transform what your user needs into an actual product. It's also worth mentioning that when you invest in UK's design, you also decrease the cost of overall software development because refining design is much cheaper than, for example, implementing tenders at the development stage. So UEX Design helps you to craft the minimum viable product, which helps you to avoid financial risks and test your products on the market first. So that way you don't invest in the full version of a product, but instead you take the most important value creators and you build an MVP around that. Then you launch your product and you gather feedback from your users. This method of developing software helps you to manage your investment better. 

The best time to start working on the UX of your project
Olga V

What will happen if we don't start to work on UX design at the beginning of the project? 


Olga K

Okay, so this depends on the kind of product, on the kind of project that you have. But I would say that so the biggest risk that you might face if you decide not to invest in the UX space is that the overall cost of the software development might be a lot higher than it would be if you invested in the UX. This is the main risk that not investing in the UX, but also, as I mentioned before, fixing a product is much cheaper if you invest in UX Design. So those are the two things that are really important here. But also you have to understand that if you decide not to invest in the UX design and not to validate your idea for a business, the risks of implementing it will be much higher than they would be if you first validated that idea. I think that UX design is a key phase here because you gather data that helps you to create a better product and a better business model. The overall process will depend on what you bring to the table, what kind of products you have, and what kind of projects you want to do with us. 

One of the interesting tools that we use to help businesses grow is workshops. For example, URIX designers optimize the process of software development using workshops, because normally, if you have an idea, you have to bring it to all of your stakeholders and you have to get them to approve before you proceed. But when you have a UX designer in your team, such a person can help you optimize the whole process. For example, by organizing UX workshops. Let's say I, for example, gather all the decision makers in one room, and together we craft a UX strategy, an idea for the product that is instantly accepted by everyone because everyone contributes to it. This is a way of optimizing the whole process. But obviously, we use workshops not only for that, but we can basically help you craft an idea for a product from scratch, even if you don't know anything about what your product might be. What is also worth mentioning here is the fact that you don't have to bring a digital problem to solve. You can have any kind of non-digital problem to be solved, and Uexanders can help you to solve that too. 

Because the UX design is not only about the digital experience, but we focus on the experience in general, the user experience in general. So even if you come here with a different problem, for example, you are looking for ways to improve the processes in your company. If you want your employees to work more effectively, and you want to increase their capacity, designers can help you with that too. We are focused on the user experience in general, not just the digital experience. So, to summarize, UX design can help you to create value for your customers. This is the main goal of UX design to help companies, help businesses to deliver value to their customers and craft the experience that helps you bring value to them. That is why it's worth considering investing in the UX space. High UX design skills of your designers can help you grow your user base, they can help you to increase loyalty among your customers, they can help you increase your conversion rates, and they can help you to spend less money on the overall product development process. 

UI vs UX: what is the difference?
Olga V

Thank you Oga, for such an amazing explanation. I have one more question about UI and UX design process because we're talking about these two processes as separate ones, but I know that they are very similar and connected. Not similar. 


Olga K

Yes, they are connected, but not exactly similar. The UI designers take care of the graphical user interface. They craft the graphical interface of your product based on the results delivered by the UX designers. But obviously, that's not everything that UI designers do. When you invest in UI design, you not only get a beautiful interface but also UI designers create design systems. And Design System is a design guideline for your product and also a design repository of components, thanks to which you can greatly decrease the costs of further product development. Because if you already have a design system, creating, like expanding your product, is way easier than it would be creating from scratch. That's why it's worth considering investing in creating a design system for a product if you plan to greatly expand it in the future, or if you create some kind of complex system that you know you will be developing over the years. Investing in the design system is very good in that case because it will greatly optimize the cost of the whole process. So if you have an idea for a digital product, or you have identified an area in which you can deliver value to your customers, but you don't know how we will create to help you deliver that value, you can. Also, reach our team and our team of developers. And user experience designer and user interface design specialists will have to work on your project, improve it, and of course save your money, thanks to UX workshops and user research. Thank you for watching and see you next time. Bye. 

What do you think? Share your impressions!