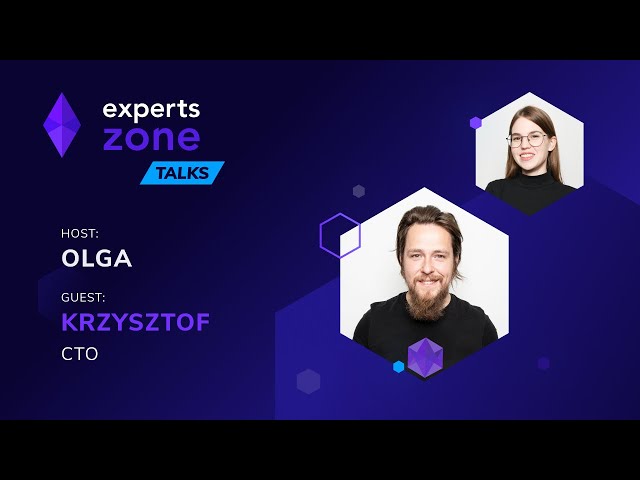 Probably you already know the guest of the 5th episode of Experts Zone Talks. Meet Chris - CTO of Frontend House and Liki!
In "CTO at Software Studio - How to Manage a Big Tech Team?":
00:00 - Intro
00:35 - A few words about Chris
02:58 - What is the biggest challenge for Chris as a CTO?
07:03 - How to choose the right people for the right project?
09:31 - What does the perfect team and project mean to Chris?
11:03 - Which projects is Chris most proud of?
Transcription
Chris

Hi guys, this is a Frontend News podcast...


Olga

Wait, this is not Frontend News. This is Experts Zone Talks. My name is Olga and this is a podcast in which we talk with professionals from all over the world of IT. This is Chris. Today, we'll talk with the CTO of Frontend House and Liki Mobile Solutions. Hi Chris!

A few words about Chris
Olga

Please introduce yourself. Finally!


Chris

Finally. Guys, you know me from the Frontend News podcast. I'm the CTO of Liki Mobile Solutions and I'm the CTO of Frontend House. But today I'm a guest of Olga in the Experts Zone.


Olga

Yeah. Could you please tell a few words about yourself, about your background and previous life story?


Chris

Sure. Of course, I'm happy to do this. So as a software front end developer, I have around 12 years of experience. I started working with very basic websites, as we always do, like WordPress and that kind of stuff. And then I has new challenges - I quickly moved to very rich, interactive websites for very big brands like Google, USA White House, like Nissan, Lexus and other kinds of companies. I managed to win a lot of awards for software engineering, which I'm very proud of.

But yeah, those are just projects. The thing that I'm most proud of is the technical software development team at Liki and that's one of my biggest life challenges to lead those guys.


Olga

Wow, that sounds cool. How many team members do you have at Liki, in the the successful technical software development team?


Chris

OK, generally speaking you have around 60 something team members, but there are around 40 something front and back end developers today. So it's quite a big team and it's a very, very varied one because we have a couple of software engineering teams, like front end, back end, mobile, devops and...


Olga

Embedded team.


Chris

Embedded, of course, I was about to say it. And also design, which I like to work with our UI/UX designers team too. I'm not an art director or creative director - we have Kinga. Probably she will be in some kind of Experts Zone anytime soon. Yeah, but...I love to be top on every project, so I also mess a little bit with design too :)


Olga

And you manage all 40 people of software development teams here?


Chris

That's my job.


Olga

How do you do that? How to manage such enormous technical software development teams?


Chris

You know… technical directors manage like two hundreds and even more people. So it's you know, here's not that much.

What is the biggest challenge for Chris as a CTO?
Olga

Please tell me, what is the biggest challenge for you as a CTO?


Chris

One of the key challenges for me as a CTO is to manage all of the team members. I mean, being on top of every project. And I think about every process and software development teams. So I need to work with the calendar, like I have meetings from seven AM to seven PM basically. So I call from one meeting to one meeting, to another meeting, and another. There is a lot of meetings. But they are very important for me because I really need to care about every project and product development at Liki and make sure that we deliver the best quality we can achieve, taking into consideration all business needs with the best performance and the best, best... BEST. It is a key element.

And what we also need to care about is not only the project, it is also using top notch technology and care about our software developers' skill sets. So we always try to use the latest technology, because like if not, people stay at the same level. But we need to develop skill sets of software back and front end development teams. We need to transfer our juniors to regulars, and regulars to seniors. And finally, for some of them, seniors to tech leads, and this is another challenge.


Olga

To help people to develop and…


Chris

Yes, to help people develop their skills, not only care about a development process. So, yeah, apart from staying on the top of each project and project team, I need to think about people.


Olga

Well, caring about people is the most important challenge in your work. Sounds very altruistic.


Chris

No, I mean I also have mentors. I think it's very important to have a mentor for a software developers and an effective software development team. And we have multiple mentors at Liki and Frontend House. For a young software developer it's so important today to have someone who develops his skills, because the Internet is full of crap. I mean, there are a lot of very oldish answers on stacks or releases. There is a lot of oldish technology.

New software engineers go into the development world. Young developer sees all the Internet and he doesn't know what to do or how to solve some things. And that's why we need to think about him, think about his skill set. And he needs to have a mentor. It's not always me - we have multiple seniors, very cool guys on the board that have young developers. It's the company's people - not the projects, not like administration or even YouTube channel. It's the people.

For me, the key thing for sucess is to care about people, about their happiness, about their skill sets, about them being happy working on the project in a software development teams. And that's what they do.


Olga

I'm glad that you didn't say that your biggest challenge is the marketing team.


Chris

You guys are amazing, so no.

How to choose the right people for the right project?
Olga

You said that it is important for team building and product development, people to be happy within the projects. How to choose the right projects for the right people and process, or the right people for the right projects?


Chris

It's a very good question. We always need to think about software development team composition. Some time ago we made a decision that each software engineering project, even a very simple software project, needs a tech lead responsible for the project. Someone who stays on the top of the project, who has knowledge about the process, tools, business, and can answer all the questions. And moreover, I mean, if a project is simple and it can be done by one junior developer, a tech lead needs to be in this project, and help him develop his software developmenthard and soft skills, do a code review. He also makes sure young software engineer doesn't do anything wrong and that kind of stuff. So I always like to think about the tech lead who joins this project, and then I think about the proper technical team.

When we start the project, we have estimations, we have a backlog... So we more or less know who will be perfect for this job because each software engineering project needs API connection, needs the motion, needs perfect HTML and perfect CSS, or interactivity with end users, some kind of video, some kind of sound, 3D, 2D... a lot of stuff. So, me and Liki tech leads, we know people, like all other developers and we know what they do and what they are best at and which software development team roles would be perfect.

And because we have a mentoring system at Liki, every person - even senior developer - have a mentor. So we know each other very well. That's why it's easy to pick the perfect person for every software development team roles in a project - back, front end developers or embedded. And again, this mentoring system is super important for us. It's the key to a successful team and software development team structure.

What does the perfect team and project mean to Chris?
Olga

By the way, you can check more about team composition in Przemek's video. I will give you a link. What does the perfect team mean to you?


Chris

Perfect team? It's a good question, actually. I mean, a perfect team for me it's like a bunch of people that can achieve the goal within the timeline, of course. But also, again, it's about teaching new developers new stuff. So, of course, we could make every software engineering project working with a tech team lead and two senior developers. That would be great, that would be painless. That would be just easy, right? But again, we want to have these very amazing developers that we have now without perfect team composition, having junior and regular developers that still need to develop their skills.

To answer your question, the perfect project means for me that we can do this project with the best performance, with the best quality, but we also teach people new things, and we use the latest technology on this. So we don't like the maintenance and that kind of stuff. And also, one thing that needs to be mentioned is the challenge, as we like challenges..


Olga

So as I see we are not looking for easy ways.


Chris

No, we're not.

Which projects is Chris most proud of?
Olga

Can you tell me about a few projects you're proud of, exciting projects done by yourself.


Chris

Ok, there are a lot of those kinds of projects in my career.


Olga

I have time.


Chris

The one that I am very, very proud of is the Frontend House actually. I mean, maybe the website it's not technically the biggest challenge of our life, but the Frontend House idea - that's the actual challenge. Having a marketing team members working for this project, having a YouTube channel, having developers thinking that they are Liki but also Frontend House developers, and having clients facing as a Frontend House CTO is something new. And this is the biggest challenge. That's the most interesting challenge for today. But again, the website itself, it's not the biggest change in my life.

But like other projects, I had a chance to work - I always mention this project - it was like a big headache for me and I was working like twenty hours per day to meet the deadline and to meet the client's expectations. It was a Nissan project I did six or seven years ago. And so we had this situation that... let's imagine you have Google Street View, you have Google Maps and you want to write something from point A to B. So, for example, from Lodz to Los Angeles. So you have the form to put Lodz - of course everything with super cool animation, the next field was to put the point B, so it was Los Angeles, and using maps, using Street View, using 3D models, using 2D textures and mixing this together, we created an interactive experience. So you had a chance to drive this new Nissan from Lodz to Los Angeles.


Olga

It takes a lot of time


Chris

But it was compressed to twenty seconds or something. So each point had new kinds of animation. So in the middle of this experience, the Nissan was like jumping to the space where you were checking the Nissan's interior and then it landed and continued down the road. So it blew my mind. At the end of the road, you had a chance to schedule a test ride with the nearest dealers.


Olga

Wow, so cool.


Chris

Yeah, it was. This project was so amazing. I mean, I did it like six years ago and I think about this project every month, every week, because it was so cool. I was the tech team lead on this.

Yeah, I had multiple kinds of projects in my career. For the White House, for Google, for Riot Games, the last shared project with Messi. I'm not a football fan, but I really love Lays. And it was like Lays and Messi combined together. For me each project is fun, and I prefer some of them, but each is very important. I don't really care if it's an easy website, the regular website, the interactive website, 3D website and super big brands, because every project is extremely important and we need to focus on this project.

Let's say we have small websites for a small company, but these websites are very important for those companies. So we need to focus on this. To deliver the same quality, the same performance as we do for big brands. For me, every agile software development project we do at Liki we do at Frontend House is just so important.


Olga

This sounds so cool. Chris gives a part of his heart to every project.


Chris

Exactly.


Olga

Well, I think it's all I wanted to ask you.


Chris

Is it?


Olga

Yeah, it is. Unfortunately, we have to finish our interview. Thank you so much. Thank you for answering and I hope for new interviews with you soon.

Thank you so much. You can check more videos on our channel, give thumbs up and thank you for watching.


Chris

Check out our website. And guys, check Frontend News. See you there.

Extend your software development team: save time, work with experts from Frontend House. Check the team extension offer here: https://frontendhouse.com/team-extension
What do you think? Share your impressions!