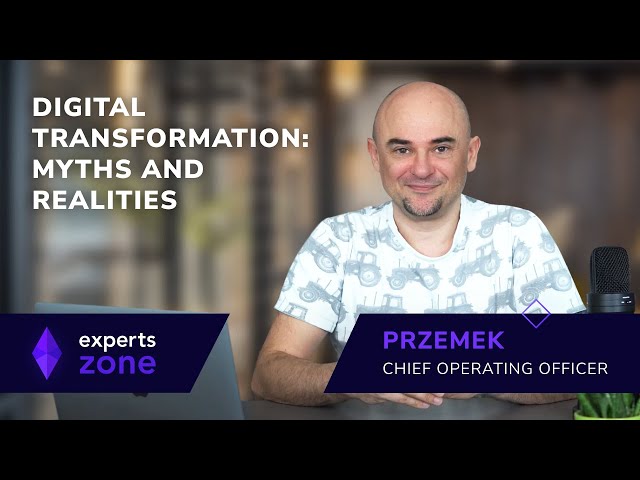 Watch the video by our COO Przemek Mikus who will tell about digital transformation and myths connected with this process.
Transcription
What is digital business transformation? 
Digital Transformation is a combination of the latest technology and adaptation to changing conditions. 
We use technologies to modify your business, and improve services or products. Digital transformation helps businesses to meet dynamically changing market demand. We live in the digital age, so delivering products and services via digital channels is becoming something required and demanded.
We will help you to keep digital technologies on your radar - digitalize your business and get your services to the next level. 
If you need to digitalize your processes, this is a video for you. Experts from Liki and Frontend House will be always there for you to develop applications, and websites, including frontend, backend, and embedded development, UX/UI design, IoT services, and business consulting.  
Digital transformation by Liki/Frontend House
The term "digitization" has a broad meaning, but typically falls within a few categories: enhancing customer experience, creating new opportunities and markets, supporting innovation, and improving operational efficiency. 
Examples of successful digitalization at Liki / Frontendhouse cover different types of business, for example, IoT industrial robots managed by computer software (using artificial intelligence), VOD/streaming services, or healthcare applications.
Sometimes digitalization is about very sophisticated processes e.g. sending rockets to Mars. But pretty often our daily routine is full of digital products and services: 
Let's imagine one of our customer's reality, a delivery company. Clients of this company now can use an application to collect, send and track their packages. This change brings various advantages to our client: it gives access to a new market and reduces operational costs. 
Digitalization is something that we meet on a daily basis: when you look for a product online,  fill out an application form, or use an application. 
Sometimes a website for your company is enough to increase revenue and open your product to new markets.  
The digital era needs resolutive actions. The digital era needs digital transformations, which will bring benefits in the future, such as improvement of a product, productivity, and customer service.
Digital transformation journey. How to develop a digital transformation strategy? 
Each client has individual needs: tech stack, team, and other elements are adjusted individually for every project. To determine the idea and define the plan, we have a proven workflow. 
So, how do we work? The first stage is a workshop. During the workshop, we define the main ideas, choose the main functionality, understand the main problems and create a plan for further work.
The second step is prototyping a solution. Then testing - which is also a very important part of the work - and adaptation to all existing elements. The following steps are production and integration.
Digital transformation myths
Sometimes, digital transformation process is connected with uncertainty. How will digitalization influence the budget? How will it impact the workflow which already exists? Let's take a look at some myths around digitalization.
Myth no 1. 
Only big companies need digitalization. I want to bust this myth - small companies need digital transformation as much as big ones. Digital transformation initiatives can help a young business to grow and retain a client base. No matter how big player you are - digital technology can bring you a satisfactory return on investment.
Myth no 2.
"Digital transformation is needed for tech and IT companies only." - the myth states. 
Experience and successful cases at Frontend House show: digitalization is a must-have process in the majority of industries. Our clients from the healthcare, industrial IoT, telecom, and other fields have already successfully begun the process of improving. Digital transformation efforts will pay off sooner than you could expect.
Myth no 3.
"Digital transformation can wait". I can't agree with that statement. Digital transformation is a process of improvement, which needs time. Your competitors could have already started their journey - delay can cost you means and clients. Be open to new business models and become one of digital transformation leaders using digital initiatives.
Contact Frontend House experts
Contact our team if you need help with the digitalization of your business. The Frontend House team of developers, designers, and project managers is always there to create innovative solutions for your business processes. Let us present to you successful examples of digital transformation projects.
Contact us via the form on frontendhouse.com and let's talk about new technologies and digital transformation strategies.
What do you think? Share your impressions!