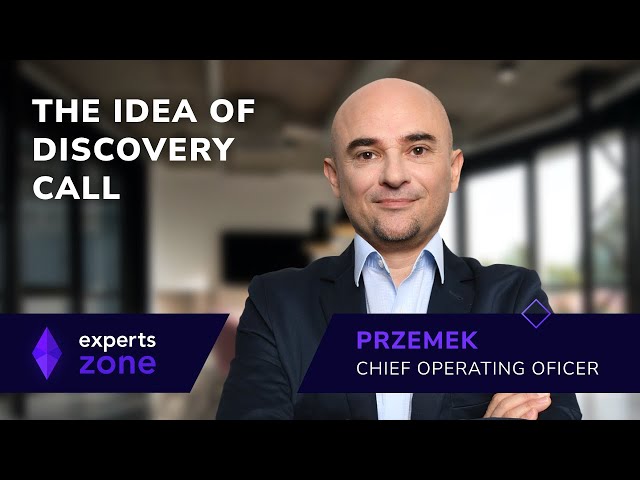 In this episode, we would like to explain why we are starting cooperation with our clients with Discovery Calls. We want to show you the importance of a Discovery Call and present a step-by-step practical guide on how to prepare for such a call and what results from it you can expect. Is there a golden rule for conducting an effective Discovery Call? Let's find out.
Przemek Mikus, the COO at Liki and at Frontend House and, will try to explain the idea of a Discovery Call in the process of creating any digital project - no matter if it is a website, an application, a mobile app, an MVP, or any other software product.
Transcription
Hi guys, my name is Przemek Mikus and I'm Chief Operating Officer at Liki and at Frontend House. We are a software studio, and today I would like to say a few words about the Discovery Calls, especially the Product Discovery Calls.
What is the Discovery Call interview?
The Discovery Call provides the plan for your project. During the call we would like to know as much as this is possible about your idea. Sometimes just a short inquiry is not enough to answer the questions about the price and functionalities. A 30 minutes discovery session can be an important tool for both of us. A successful Discovery Call will save us valuable time and give us the possibility to put the funds for your product or project development.
Who needs the Discovery Call?
The Discovery Call is a tool we use in every project. Usually, our customers are startups, big companies, or institutions, so the projects are different - from small one page websites to very large e-commerce websites including advanced integrations with sales systems or customer care systems. Of course, sometimes our clients come up with an idea of a small application and during the beginning of the cooperation, we agree that it is only a part of a fully functional app.
For example, we have cases where someone is looking only for front end development, but after the Discovery Call we know that the whole project needs to be refreshed. So there is no exact answer to that question. We can build for our clients an application, a website, or the MVP. It's a trial of the project.
Why do we need a Discovery Call? What is the main purpose?
I believe that the main reason why we do this is to minimize the risk of failure of the project for both sides. I'm checking if the idea works with the timeline and budget, of course. We both find users for the app or your website.
What happens during the Discovery Call?
It depends, but mainly I would like to ask about the customer's idea. What do you expect? A website or an application? Maybe another kind of software, maybe something embedded? What is the goal of the project? Estimated time and budget? And then we are starting to talk about the team on your side - who will be engaged, who will be responsible for taking decisions, for the acceptations? What is the schedule after the start? Which functionalities are the most important?
How should the client prepare for a Discovery Call?
The most important thing for me is to understand the client's idea, so any piece of information about the digital projects will be important. Not only the goals of the product are interesting, but for whom the application or website is created. We would like to understand your end customers or future users. What are your preferences in case of style and design colors? What do you prefer? Maybe there is some important information you would like to use in your project?
Are those all of the questions you will be asked during the call?
No. We would like to learn almost everything during the call. We have some, let's say Discovery Call script to identify prospect's pain points. Well, in fact, it's a part of the sales process, but in the end, our goal is to run a truly great Discovery Call. You can even say an effective Sales Discovery Call.
What are the typical questions you ask during the call? What else Discovery Call questions you can mention?
All of what I have been mentioning before, I would say are typical, but apart from that, additionally there are a lot of other questions that we usually ask. For example, would you like a Product Discovery Consultation or you might be interested in a Product Discovery Workshop? Do you currently have the budget allocated for the solution or you will have to plan it? Or maybe, is there anyone else in your company you would like or need to include in these discussions? Since sometimes somebody might have some important information that might have an impact on the project.
What are the biggest priorities in this project? What is most important? How urgent is this issue? Is there any crucial pain point? What is your timeline for making a decision or what is your timeline for seeing results? When would you like to have this ready? Maybe you will be replacing some current solution with the new one or maybe you would like to change your present supplier?
Do you have a preferred tech stack for your solution? Have you chosen one or you would need some consultation about that? Of course, I don't miss all the topics about the project I was talking about previously. We have been taking all Discovery Calls extremely seriously since this gives us the funds to the rest of the project.
What more would you like to add about the Product Discovery Calls?
I think it is the beginning of cooperation so this is very important to understand each other, and during the Discovery Call, I need to jump into the clients' shoes. Our sales teams try to understand the project, the goals and focus on final customers to have visibility of what the development team or design team will need and finally the possible timeline and budget forecast. At the very beginning of the cooperation we need to understand each other. We, as a software studio, will do our best to understand the project, the goals and focus on your final customers, your final end users, to discover the possible timeline and budget forecast.
What will the client have after the Discovery Call?
The main goal of the Discovery Call is to check the next steps. Doesn't matter if this will be an agreement of a well-described project with an exact price, timeline, deadline or proposal to do the Product Discovery Workshop to help better design the digital product. It's a huge step in the whole sales discovery process.
Guys, I hope that this gives some brief information about the Discovery Calls or Product Discovery Calls, and I hope to see you soon together on the Discovery Calls. Take care, bye.
If you want to learn more about the Product Discovery Workshop, check our service or ask for a free consultation.
What do you think? Share your impressions!