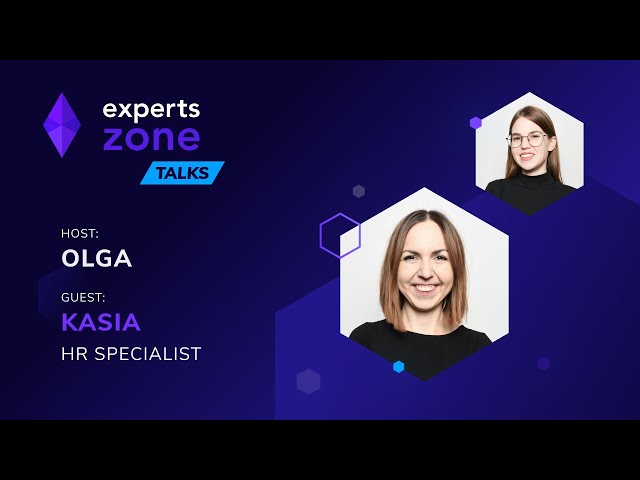 Meet Experts Zone Talks - the podcast in which we will talk to experts from different fields of IT and get to know the secrets of the various It professions. In the EZ Talks #1 episode, the IT recruitment specialist will share her experience. Have a nice watch!
00.00 - Intro
01:05 - What are the stages and steps of the recruitment process?
03:20 - What do you check on each stage?
05:15 - What do you pay special attention to while talking to a candidate?
06:16 - What are the differences between junior, mid and senior levels? Is it important?
07:46 - Do you remember some interesting situations from your recruitment career?
09:05 - Why is IT recruitment special?
10:44 - Do you have your recruitment tricks?
12:09 - Outro
Transcription
Olga

And today, we will tell us about picking the top talents in IT. Let's go. Hi, my name is Olga, and this is Experts Zone Talks podcast in which experts from various fields of IT share their professional secrets. And today we'll talk with Kasia Redo, the recruitment specialist at Frontend House. Kasia has a rich experience in IT sourcing and IT recruiting. And I'm sure that Kasia sees the competencies of the developer at first glance. So developers - watch out!

Kasia

Hello, everyone. Thank you for inviting me. It's nice to see you here. So let's start.

Olga

Yeah, let's start. So my first question is, what are the stages and steps of the recruitment process?

Kasia

All right. So basically the four stages, the first stage is phone screening. So when I get the application, I arrange a phone screening with a candidate. It lasts about 30 minutes. After this conversation, I consult it with the recruitment team - so basically, with the leader of a team and CTO. If they give me the green light, I arrange the second meeting, which is the technical conversation, but there is a small task between these two.

So basically the second step is usually the task, which lasts around five hours. And of course, I explain everything to the candidate.

Olga

Five hours!

Kasia

Yeah, exactly. So the candidate has to, you know, arrange five hours - somehow - for the task. And after I get that, I send it again to the leader of a team. If he or she gives the green light, then I arrange the second interview, which is a technical interview.

And if everything goes right, the last meeting is with our chief of operations. And it's about, you know, making the offer and some other formal arrangements.

Olga

Why are there so many steps?

Kasia

You know, we try to do our best to hire the best talents and we really care about the code quality. We want to know this person very well. And that's why we decided on two technical steps, because, as I said, there was a task and there was a technical interview because we want to do the best job, right? With the best people. And that's why we check it in this way.

Olga

Hmm. And what do you check on each stage?

Kasia

All right. So my first step is, as I said, the phone screening. So this is a phone conversation with me or with my teammate. And basically what we check is some formal or organizational stuff like availability, salary expectations and so on and so on. Plus, we always ask about expectations, but from a less formal perspective. So, for example, what do we expect from the project or what do we expect from the team and so on, in which direction you want to develop and how would you like to proceed with your career. Because this is important for us to see the best project. And of course, I ask a few questions in English because this is important for us as well. So this is the first step during a technical interview and task, of course, and technical skills are being checked. This technical interview is more like discussion, because, you know, the team leader doesn't only ask technical questions, but also this is a chance for the candidate to get more information.

So technical leaders are happy to share their knowledge about projects, about the way we work and so on and so on. Right. And the last part is just about formal stuff, as I said. So our chief of operation sometimes negotiates even the terms of employment. I mean, when do we start? Do we need the equipment for this person? What kind of equipment? Salary, of course. And so on and so on.


Olga

What do you pay a special attention to while talking to the candidate?

Kasia

Hmm. I would say there are a lot of factors. Of course, we pay attention to technical skills, but this is not necessarily the most important during each meeting with the candidate, we pay attention to communication skills. We pay attention to a willingness to learn to develop. This is important for us because we try to support the development of each team member. So when we see that someone is willing to do it, to develop, to follow the news, to follow the trends, we really appreciate that.

And I guess we also pay attention to the willingness to engage. I mean, engage in our internal initiatives, engage in our internal development as a company. So we talk a lot about that as well.


Olga

Well, I know that there are levels of developers like Junior, Mid and Senior. What is the difference between them and is it important?

Kasia

Mm hmm. This is a good question and I believe there is no one right answer for that. For us, if you check our job openings, you will see that we have job offers for regular developers, for seniors. And when you look deeper, you will see that we are divided into these levels according to years of the kind of experience.

Right. But in reality, it can be more flexible. I mean, when you have three years of experience, that doesn't necessarily mean that you are on the regular level, to be honest.

And it can work in different ways because we had very different situations during recruitment. And I believe there were situations like, you know, a person with quite little experience, but with so much knowledge and so much passion that we can say it's more than junior, for example. Right. And unfortunately, the other way around as well.

Olga

And do you remember some interesting situations from your recruitment career?

Kasia

I guess there were some interesting situations because, you know, this is contact with real people. Life is interesting.

Olga

Yeah, exactly.

Kasia

All of the interviews are interesting because people are very different. And, you know, in this area, you can meet a lot of very, very different people. So this is for sure interesting. And to be honest, I can't remember any particularly interesting or particularly fun situations just like that. I believe almost all the situations when we get very nice feedback from the recruitment process. So, you know, it's quite common that we receive some information from the candidate, even if he or she didn't really go through the whole process. And they thank us for our attitude, for our flexibility. It's so nice. It's very nice. It's really something that lift you up.

Olga

My next question is... is recruitment special in some way? Does it have some features?

Kasia

All right. To be honest, I've never worked in a different area than IT recruitment. But I believe all industries or branches concerning recruitment have their own issues. Right. So for sure, IT has. I believe the beginnings are the most difficult. So when you are not secure enough about your knowledge and you think, oh, my God, I need to speak about this. There are a lot of stereotypes about that. I remember myself when I started working in this field, I knew about these stereotypes and I was wondering, oh, my God, it will be very, very difficult to talk.

But then if you proceed with that, if you do the interviews and talk with people a lot, it becomes much easier. Of course, it also depends on your knowledge, technical knowledge as well. So if you are better at that, it's easier. And I can assure that programmers and other technical people are very nice, open, and it's really not fair to to hear all of these stereotypes.

Olga

Yeah, I agree. Confirmed, right? And the last question for Kasia is: do you have some recruitment tricks that help you in everyday work?

Kasia

You know, I would say that my work is about two things about sourcing - getting to the right candidates. And there are a lot of tricks. But I think this is too big to talk about today. And the second part is about the recruiting. So going through each stage of the process with a candidate - and there is not a lot of place for tricks, to be honest. No, but I would say that the biggest trick is the attitude.

I mean, if you do your research before talking with a candidate and if you inform the candidate on each stage of the process, if you are honest with him or her, if you are just a nice person, you will be alright.

Olga

Oh, that's so nice. But it's true. It was very nice when you wrote to me and asked if I'm coming already to Poland. And it was really nice.

Kasia

Yes, I remember this process. So, yeah, you can see how it works usually in your real life.

Olga

Yeah, that's very nice. It's nice to hear that. Thank you Kasia, thank you. It was a very nice conversation. If you like the video, please subscribe to our channel, watch other videos on Frontend House channel. Have a nice day and give thumbs up. Thank you for watching and goodbye.

Kasia

Thank you. Bye bye.
What do you think? Share your impressions!