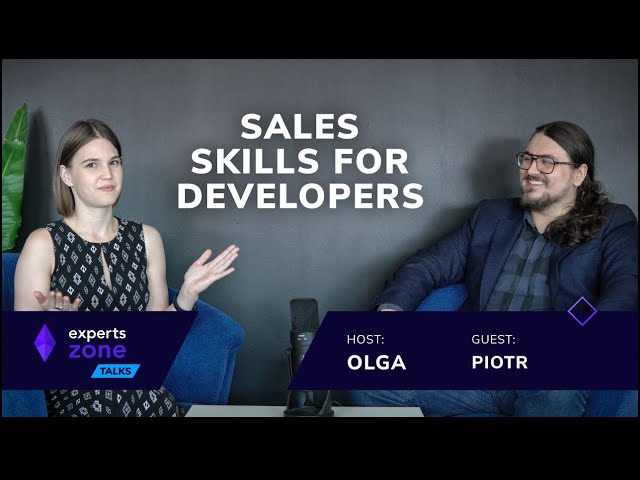 Today we will talk with sales representative Piotr about sales skills which could be very helpful for developers, about the cooperation of sales and developers and maybe some useful tips about sales calls and presenting ourselves.
Transcription
Olga

It seems that salespeople and developers are very different and have different purposes and different points of view, but that is not always true. Today will speak with an amazing person from sales about the cooperation between sales and developers and about the skills of sales, which could be very helpful for developers. So let's go through the first intro and then more information. Let's go! That's nice to have you here today at our studio. I see that you are very happy.


Piotr

Thank you. Yes, I am happy. Who wouldn't be happy working in a company such as Leaky? You have a beautiful studio here. I mean, I made coffee just a while ago in the studio, but I have never thought about it. 


Olga

Say a few words about yourself. 


Piotr

Okay, so my name is Piotr. I'm a business sales representative in Liki. I've been working here for quite a while now, maybe five or six months, half a year. It's not that much, but I know some things already. Basically, my main job is to do prospecting stuff in the company. So that setting up meetings with the new clients and searching for those who want to develop software. When you search for clients and you set up meetings with them, you need some technical advice from you guys, developers. So, yeah, that's the point of this meeting, I think, discussing about the common ground we have in terms of sales and in terms of developers and mobile apps etc. Because sometimes it seems that, just like Olga told in the beginning, maybe people think that sales and developers are something very different from themselves. But we are all people. Just look at me, I look like a guy who sat in front of a computer for quite a while. 


Olga

We all do! 


Piotr

Yes, but it seems like it's very visible and big. So, yeah, I look like a developer, but I'm not.  


Olga

When do you guys from sales meet developers and when do you cooperate? 


Piotr

I met some developers today in the office, for example. So that's the place we meet. But I guess that was not the point of your question. 


Olga

Yeah, it wasn't. ;D


Piotr

Usually the moment where we speak to developers is when we have a project or an opportunity of speaking with a client. And basically, when we speak with the client, we may have all the skills that are needed to proceed with them through all the process of sales. But we usually don't have all the skills that are needed in terms of the development of the programming languages, the stuff that developers do. And they do know it. That's the reason we usually reach for the developers and we ask them for help. We also ask them for advice. So if a project that we bring is not something that they like to do, we don't force them to do this project. We usually discuss it with them and that's it. I think for the question. 


Olga

You said that you always ask for advice, pieces of advice from developers. Maybe you can give some advice to developers. For example, how to present themselves.


Piotr

I think that calls with clients have really changed before the pandemic. It was maybe kind of rude to show up in your home when you have dogs flying behind you, or cats, or doors opening, et cetera. But right now we might say after the pandemic times it has changed and many people are working from home, so the clients don't really put too much weight on their clothes or the surroundings you have. Usually, it's more about the things you say because when you ask for a developer on a meeting with a client, usually you need that sweet information that developers have. And usually, they ask questions that are more technical than we would ask and well, that's the reason we have the developers at our meetings. But it's not because they have to wear certain clothes or, I don't know, just look in a certain way. I think the most important thing, it applies to both meetings, business meetings and both in life you have to be honest and well, basically be yourself. And if you are yourself, you will go through all the meetings in the software project. I know it might sound a little bit cliche, but it is what it is, really.

So the client is also a person. It's not a mythical creature that comes from another word. It's usually just another person that has some needs and wants some advice. So I wouldn't be too stressed about the meetings with the clients because of course you have to get used to it with time. It's never that easy to get used to stuff like this. It's just practice like everything. 

Software development process and sales skills
Olga

Do you think that developers have to have sales skills? 


Piotr

Well, if I said that the developers have to have sales skills, I wouldn't be needed here in the company. But of course, some skills that the sales have are needed in life in general. I mean, communicating with other people and getting to know the person you are speaking with and being able to communicate is an important thing, not only in the job but in life in general. And I think me being sales for three years now, so it's not that long. I see from my own experience, that really changed. I mean, I was, believe it or not, more on the introvert side before, but when I became sales and I had to go to the meetings and pick up with people, it just made me open up another chapter in my life. So I would say that it is important to practice those skills. But I don't think that developers should really sell things because it's not their job. Well, of course, it's important for developers to present themselves. To present yourself, you have to have some common sense and that's what you speak to the client.

Software developers and calls with clients
Olga

What skills are important to have you in the sales calls with clients?


Piotr

I wouldn't say you have to change your skills or it's always worth saying that if you're an introvert, you have to act like yourself. I know it might sound difficult, but the people in It and the people in the meetings and the clients in the meetings, they usually been in the It business for a long time and they already know that. Well, it's safe to say that probably most of the developers are introverts, more on the introvert side, like big brains, very smart. But usually, they are introverts and it's. 


Olga

Alert! It's not always true. 


Piotr

Yeah, of course, it's not. So you have to act like yourself and just be yourself, be an introvert if you are an introvert. That sounds easy, but it isn't easy. It sounds cliche again.


Olga

Some cliches for you. I've heard that it is sometimes a little tension between sales and developers. What do you think about it? Maybe I'm wrong. 


Piotr

No, it's not always that colourful and that bad, of course. But the reason behind it, I would say, is because well, the sales department usually wants something from everyone. I mean, they want you to go to a meeting, they want you to prepare some marketing, they want you to get the accounting done and such things in project management. Usually, we are the person that somehow represents also the clients' interest because it is important for us to deliver things quickly in an effective software development process. So we usually say, come on, come on, do it faster, et cetera. We have to end it tomorrow. So I think that's one of the reasons that sales are somehow not vulnerable to these dissensions in the company. Also, I would say that's the reason for dissensions well, the sales process usually takes a really long time. So it's at best three months or four. It's the best. So it takes a really long time to deliver the topics, the projects, and software code, and sometimes it looks like suddenly nothing's happening and then it hits right away and there's a job to be done. And then you have again this salesperson that says that you have to do certain things or go to a meeting with them. 


Olga

It reminds me of the meme in which someone is riding a bicycle and everything is on fire and the bicycle is on fire. 


Piotr

Yeah, that's it. Well, you usually don't have any problems when I don't know, your department director or CEO of your company tells you to do something. But when you do these little favours for the sales department by software engineering specialists, you might feel cheated or why does this guy tell me what to do? I know better how should it work and all operating systems. But, you know, life is life. 


Olga

Okay, so let me see if I have more questions for you. 


Piotr

I just recall that I have another meeting right now with the client, so I must go. I guess I don't have time for this. I'm a busy man.


Olga

Busy man. Thank you so much for this meeting. 


Piotr

Thank you. 


Olga

Thank you so much. I hope you will come here again and talk with me.  


Piotr

Well, of course. If you enjoyed it, please comment subscribe, hit the like button and then hit the notifications button. Also, please follow us on our front page Instagram, clutch co. See you again soon. Bye. 

What do you think? Share your impressions!